Join a group of 9 companions, two hosts and two guides for fully outfitted and guided 36 ft Voyageur Canoe through Superior's iconic Group of Seven landscape from Jackfish to Hattie Cove on Lake Superior.
Trip Includes
Qualified Guide(s)

All Meals and Snacks

Group Safety and Communication Gear

Group Camping Gear

Park Fees

Return trip transport from our base
Extra Trip Options
Camping Gear Rentals

Reduced rate for Pre & Post Trip Accommodations at Rock Island Lodge. Use code: TRIPGUEST
Trip Description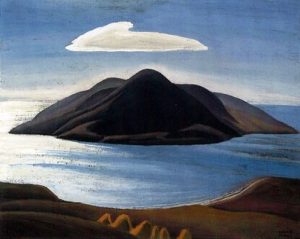 Lake Superior's north shore from Jackfish to Pukaskwa National Park is an infrequently visited gem of island-to-island paddling, open coastline and quiet bays and coves. It's wild, rugged terrain and expansive horizons inspired iconic canvases by Group of Seven artists Lawren Harris, Franklin Carmichael, A.J. Casson, Arthur Lismer and A.Y. Jackson.
Our starting point is the ghost town of Jackfish.  Once an important stop on the Canadian Pacific Railway, it was a favourite haunt of Jackson, Harris and Carmichael.  Harris focused his creative eye on the gentle curves of St. Patrick Island, while Carmichael painted a landscape of a bustling village on the shore of Lake Superior. We'll wander amongst Jackfish's ruins and rediscover the artists' viewpoints.
We found that, at times, there were skies over the great Lake Superior which, in their singing expansiveness and sublimity, existed nowhere else in Canada.
– Lawren Harris
The scenery becomes even more spectacular near Neys Provincial Park and we'll take a day to circumnavigate Pic Island comparing Lauren Harris's iconic 1926 image to the reality. Time permitting; we may to hike up to the hilltop where Harris painted. The sweeping topography of this stunning island dominates the view from our planned campsite at King's Beach on the Coldwell Peninsula. This wilderness area is also home to woodland caribou, an endangered species.
We'll stop at Port Coldwell, a forgotten fishing village where Harris' Icehouse (1923) canvas recalls a simpler time. Further along we'll pass Detention Island, one of several former World War II prisoner-of-war camps. Raised cobble beaches and beautiful sand beaches lead us to the modern-day town of Marathon. From there it's a scenic paddle past the dunes of Pic River and our destination at Hattie Cove in Pukaskwa National Park.
This is a trip for relatively fit people optimally with some but not necessarily previous paddling and wilderness camping experience. Be sure to bring your camera, paints & brushes.
Your Hosts
Michael Burtch, retired Director-Curator of the Art Gallery of Algoma, is an artist, art historian and filmmaker. He co-produced Painted Land, a documentary of Group of Seven painting in Algoma. He is also the winner of the Canadian Screen Awards 2017 Barbara Sears Award for Best Editorial Research.
David Archibald, an acclaimed Canadian singer-songwriter and "paddling minstrel" has written and performed a broad catalogue of nature and Park focused songs. Albums include Spirit of the inland Sea and 'Pukaskwa: Songs of Superior'.
Michael and David very successfully co-hosted this trip in 2018
Our Guides
Our guides are drawn from outdoor adventure/recreation programs or are teachers and outdoor professionals. They are certified with Wilderness Advanced First Aid (40 hrs), our own Lake Superior Guide Course and Paddle Canada certified paddling/instructor skills. Many return to work for us year after year. They are all great paddlers with a love and appreciation for Lake Superior's heritage, history and ecology.
Read more about The Group of Seven's North Shore.