A nation emerged in the wake of the birchbark canoes, the engines of the fur trade, Canada's first industry. The canoe epitomizes our history.
We offer a number of trips by Voyageur Canoe along the North Shore of Lake Superior each summer. The routes we travel trace the same coastlines that were paddled by the fur-trading voyageurs in Canada's early days, two centuries ago. This shoreline is officially designated as the Lake Superior Water Trail, a part of the 24,000-kilometre-long Trans Canada Trail.
Voyageur canoes are 36 feet (12 metres) long, 5 feet (1.5 metres) wide and carry 12 to 14 paddlers (and their camping and cooking gear and food) on multi-day trips. They're very stable, seaworthy, easy to paddle and well suited to Lake Superior.
Strength comes from numbers, so voyageur canoes are perfect for beginner and novice paddlers, individuals and diverse groups. Our canoes are fully outfitted according to Canadian Coast Guard regulations including paddles, lifejackets and other safety equipment.
Just like in the days of the fur trade, each trip or brigade will be guided by experienced trip leaders who have an intimate knowledge of the coastline, including the best campsites and great stories to share. Your guides are experienced paddlers with leadership training and wilderness advanced first aid. They are also talented wilderness chefs.
Trips include all meals and are fully outfitted including tents, canoe packs, all group camping, cooking, eating, sanitation, first aid, safety and communication gear, as well as transportation to and from the starting point and finish. Return transport from nearby airports (Sault Ste. Marie and Thunder Bay) will be available at a reasonable additional cost. You'll be responsible for personal clothing, sleeping bag and sleeping pad (these are also available for rent).
A joy of travelling on Lake Superior is the lack of portages. This combined with a high-volume canoe means that our trip menu is hearty and healthy, including plenty of fresh foods. Meals are planned, packed and prepared by guides. With sufficient notice, most dietary preferences (vegetarian, vegan, gluten-free) can be managed. Participants are welcome to help with camp chores or relax and enjoy Lake Superior's beauty.
A detailed trip package will be sent following registration.
Sign up for this trip if you love great music and wilderness camping. You'll enjoy secluded campsites and a special night at a wilderness sauna. Be sure to bring your own musical instruments to jam with a Canadian music icon around the campfire.
Dates: Sun Aug 4 – Fri Aug 9, 2024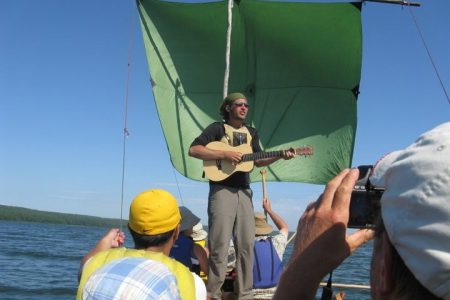 Join photographers Andrew McLachlan and Helen Grose in the photo workshop-come-wilderness Voyageur canoe trip as you paddle the Lake Superior coastline west from Wawa through the Highlands Conservation Reserve to Nimoosh Provincial Park.
Dates- Not offered in 2024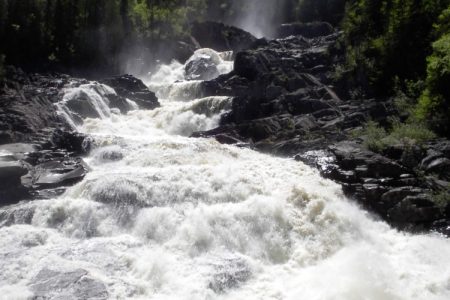 Pukaskwa National Park is the wildest freshwater coastline in the world, a 180-km stretch of roadless wilderness that's changed little since the voyageurs plied these waters two centuries ago. Expect solitude like you've never experienced before as we discover secret campsites and trackless beaches.
Dates: Not offered in 2024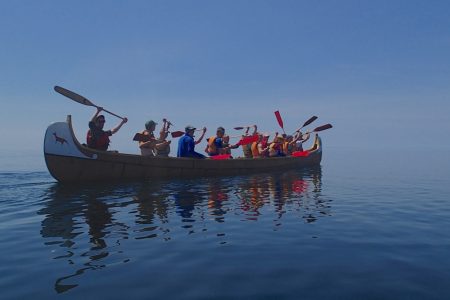 The rugged North Superior shore inspired Canada's iconic Group of Seven artists, especially Lauren Harris. Today, Jackfish, Pic Island, Neys, Port Coldwell and Hattie Cove still captivates the senses and to best capture the experience this trip is hosted by Artist, producer Michael Burtch and campfire folk musician David Archibald.
Dates: Not offered in 2024
---
---
Our custom voyageur canoe trips allow you to organize your own trip in our 36-foot canoe. A custom voyageur canoe trip makes for an excellent corporate retreat or family vacation.
---