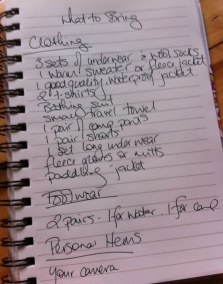 Your paddling adventure on Superior may include a wide range of weather. Nights can be quite cool and days warm, mostly it's very sunny and occasionally it rains!
Many people have come for visits in July wishing they had a pair of long underwear and hat with them, others in September have regretted not having their swim suits along. For your safety and comfort, we suggest that you come prepared for diverse conditions and follow the suggested guidelines BUT feel free to pack according to YOUR needs:
---
Day Trips
For day trips your boats are Coast Guard outfitted as follows:
1 PFD/life jacket per person
1 paddle per person
Throw bag with 15 m of floating rope
Bailer or pump
Spray skirts for sea kayaks – provided you have current wet exit experience
We also supply at no charge (subject to availability):
Paddle jackets
Farmer John/Jill wetsuits
Water booties
Paddle floats
Greenland paddle for kayakers
Dry bags
Consider bringing with you:
Personal paddle gear
Change of clothing in a dry bag (we have some available)
Shoes that you don't mind getting wet (flip flops are not appropriate)
Hat, Sunscreen and sunglasses (with strap) are ESSENTIAL (a lip balm with SPF too)
---
Kayak Trips
Clothing
Three sets of underwear and wool socks (leave the cotton socks at home).
One warm sweater or fleece jacket (unless you can layer the sweater AND the jacket together, bring one or the other)
One good quality, waterproof rain jacket and rain pants
Two t-shirts (preferably not cotton)
Bathing suit
Small travel towel
One pair of camp pants (nylon or quick dry)
One pair shorts
One set long underwear (polypropylene, merino or light fleece)
Fleece gloves or mittens and warm hat/toque (it can get cold on Lake Superior even in July, especially in the evenings)
Paddling jacket (we have some available to borrow)
Footwear
Please bring two pairs of shoes:
One for water. We recommend water shoes/aqua socks/neoprene booties or sandals that can get wet. Your feet WILL get wet. Be prepared!
One dry pair for camp and walking around- no need for hiking boots. These must be a different pair than your wet shoes.
Personal Items
Your camera! Don't forget a waterproof case, extra memory card and batteries!
A hat for sun protection
Sunscreen and sunglasses (with strap) are ESSENTIAL (a lip balm with SPF is a good idea as well.)
Personal hygiene products such as deodorant, toothpaste, toothbrush, biodegradable soap, and a hairbrush. Look for environmentally friendly products at your local drugstore or health store.
Your personal medication. Labelled clearly, in waterproof containers. Twice as much as you need, in two separate containers.
Extra prescription glasses/contact lenses.
Field guides on local flora and fauna (optional)
Binoculars (optional)
Flashlight or headlamp
Water bottle (reusable) and insect repellent
Bug jacket (optional).
Personal journal/reading material (optional)
Sleeping bag (small and stuff-able. NO large flannel bags please). We have ones available to rent.
Sleeping pad (we have foam-style pads for you to borrow but if you have a cushy "Therm-a-Rest" or "Exped" mat we suggest that you bring it.)
Good Layering Rules for Cold Water Paddling
Layer one: synthetic long underwear.
Layer two: farmer John or Jane wet suit (for on water); pants & top of fleece or wool (on land)
Layer three: rain gear, wind breaker or paddling jacket.
Gloves and hat
AVOID COTTON CLOTHES for cold water paddling– it dries slowly and will not keep you warm when wet. Having cotton t-shirts in the mix though is fine if the weather is hot – cotton will help you keep cool if you get them wet.
Items You Don't Need to Bring
Food (we have lots), camp cooking equipment and eatery.
Toilet paper
First Aid and Repair kits
Maps
Your cellphone (you're on holiday now, plus it won't work anyway)
Because you are limited in packing space, please do not bring more than you need. If you have any questions, please give us a call and talk to us, we'll be happy to listen. Reserve one hatch for group gear and the other hatch for your personal items. 1.800.203.9092
We do have a small paddle shop on site that stocks a small supply of paddling gear, books, souvenirs etc.
---
Voyageur Canoe Trips
See list above and alter on-water clothes as you will not likely get wet unless it rains. Add:
Day Pack
Small seat cushion or foam pad for the canoe (optional)
Musical instruments, books, games, etc (remember things may get wet!)
On this trip, we provide large waterproof canoe packs that will normally carry the tent and personal clothing of two people. Even though it seems like there is a lot of room in the canoe, please bring only what you think you will need. When on the water, depending on where they are in the boat, direct access to canoe packs may be difficult so we recommend you also carry a small day pack to hold water bottles, camera, a fleece, rain jacket, sunscreen, snacks, etc.
---
School Programs – Fall & Spring (Day & Overnight)
Students must be dressed for spending the day outdoors in a variety of spring/fall weather conditions. Kids will be more comfortable if they dress in layers. If synthetic or wool clothing is available that's wonderful because they both repel moisture, dry faster and will be more comfortable. But it's not critical.
Life Jackets are mandatory and must be worn for all on water programs. We supply life jackets and our boats are fully outfitted to Coast Guard requirements. If your child has a lifejacket and wants to bring it, great.
Cameras are welcome but not electronic devices.
Day Programs
Sturdy closed-toe shoes, running shoes or boots (no sandals please). If there is a water component, water shoes/runners are good along with something to wear before/after being on the water. Don't rely on your water shoes to be your camp shoes (they will most definitely get wet)
In addition to regular clothing, an extra layer for warmth (sweater/jacket), a hat and a rain jacket as weather can change quickly. Hat and gloves are recommended for cool weather.
As appropriate: Sunscreen, sun hat and bathing suit/towel. Water bottle. Any required medications.
A bag to put it all in.
Overnight Programs
In addition to the list above, kids will need an appropriate sleeping bag, a change of clothes and something separate for sleeping in. Optional- a flashlight and small pillow (or substitute). If they have one a foamie/thermarest (otherwise we can provide them).